Dog Grooming Services
Every groom will include appraising the overall condition of your pet. Prices may therefore vary dependent on the individual dog however our typical price range is shown below: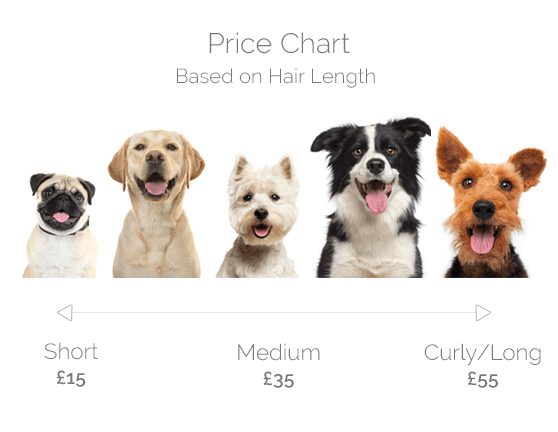 Grooming Services
Bath, Brush and Fur Dry
Full Groom
De-Shedding
Teeth Cleaning
Paw Spa
Facial
Parlour's Professional Grooming Services include a luxury bath, brushing, fur blow drying, trimming nails, trimming pads, ears cleaned & plucked if required.
Parlour use products which benefit your pet's individual fur & skin type. We groom your pet according to your wishes and aim for a end result which compliments both of your lifestyles. All visits to Parlour conclude with a wagging tail.
Parlour Puppy Pamper £25
Getting your new puppy used to grooming is very important. Grooming isn't just about making your puppy look good. Regular care removes dead hair, keeps the coat and skin healthy. Starting early means puppy gets used to being handled.
We offer the Parlour Puppy Pamper for puppies who have had their complete set of vaccinations, up to 6 months of age.
The pamper includes a luxury puppy bath, dry, ears cleaned, paw tidy, coat tidy and a positive experience.
Parlour Paw Spa and Blueberry Facial £7
Paws can easily be damaged from gravel, asphalt , and harsh winter weather. Why not treat your pet to a added extra. A soothing bubble bath leaving tired paws refreshed and a foaming facial cleanser.
At the end of the groom a reviving moisturiser will be rubbed into their pads, finished off with a lavish pet cologne. They will love you for it!
Parlour Pearly Whites £5
Dogs benefit from clean teeth and fresh breath. As an added extra Parlour will clean your dogs teeth with a gel and toothbrush which helps reduce the build of plaque and tartar.
The treatment will finish with a fresh breath minty foam. Canines love it!
---
From puppy through to adulthood, Parlour wants grooming to be a regular and enjoyable part of your pet's routine.
---